Low price Portable Desktop Fiber Lamp introduces the characteristics of fiber optic lighting
---
The fiber optic lamp uses a special polymer compound as the core material and a high-strength transparent flame-retardant engineering plastic as the outer skin, which can ensure that there will be no quality problems such as fracture or deformation for a long time. Due to the use of high-purity core material, the attenuation in light transmission is effectively reduced, and light transmission is achieved. Because of its high purity, low attenuation, and easy installation. Let's follow the editor of Low price Portable Desktop Fiber Lamp to learn about the characteristics of fiber optic lighting.
1. A single light source can have multiple luminous points with the same luminous characteristics;
2. The light source is easy to replace and easy to repair;
3. The light-emitting device can be placed in a location that is difficult for non-professionals to reach, so it is anti-destructive;
4. No ultraviolet and infrared light, which can reduce damage to certain items such as cultural relics and textiles;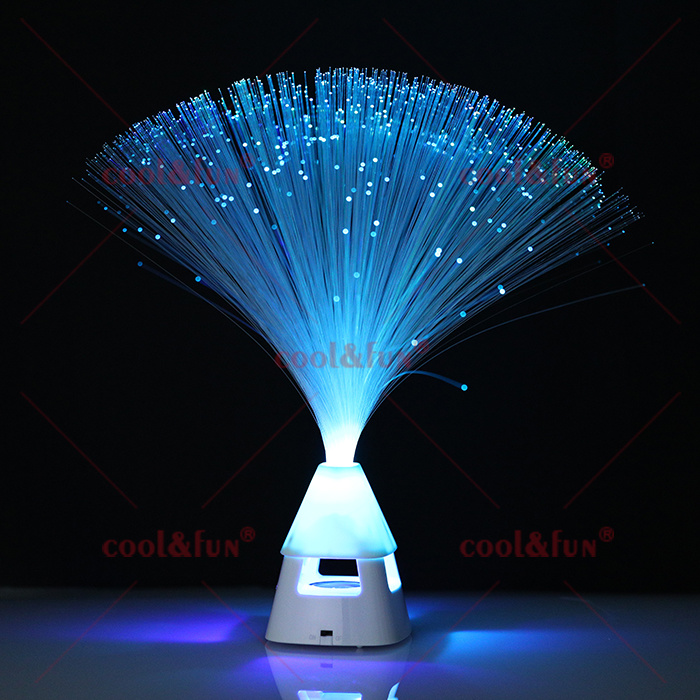 5. The light-emitting point is miniaturized, light in weight, easy to replace and install, and can be made into a small size, placed in glassware or other small objects to emit light to form a special decorative lighting effect;
6. Without electromagnetic interference, it can be used in special places with electromagnetic shielding requirements such as nuclear magnetic resonance room and radar control room;
7. No electric spark, no electric shock hazard, can be used in chemical, petroleum, natural gas platforms, fountains, pools, swimming pools and other special places where there is a fire, explosion hazard, or moisture and water;
8. The light color can be changed automatically;
9. Can be reused, saving investment;
10. Soft, easy to fold, not easy to break, and easy to be processed into various patterns; the system heat is lower than the general lighting system, which can reduce the power consumption of the air-conditioning system.
The above is the editor of Low price Portable Desktop Fiber Lamp introduced the optical fiber lighting characteristics of the optical fiber lamp.